The Colorado Veterans of Foreign Wars of the U.S has a rich tradition of serving veterans, military families and their local communities and is proud to be the home of one of the VFW founding organizations. Is was in 1899 that the roots of the VFW began when the National Society of the Army of the Philippines from Denver, Colorado and the American Veterans of Foreign Service from Columbus, Ohio formed to serve the veterans of the Spanish American War (1898) and the Philippines war (1899 - 1902). In 1914 these two organizations merged forming the Veterans of Foreign Wars of the United States. In 1936 Congress chartered the VFW and it continues its rich tradition in enhancing the lives of millions through its community service programs and special projects.
When America called our veterans gave and through the VFW they continue to give today. Our members common bond and shared respect drive us to support those who've born the burden of battle - from WW II through service in Iraq, Afghanistan, and other modern theaters. From Memorial Day and Veterans Day services around the state, to overseas troop support such as Operation Uplink, we make a difference. Our benefits assistance, advocacy for veterans and our troops, military transition guidance, veterans employment opportunities, camaraderie and community service proves that NO ONE DOES MORE FOR VETERANS.
About H. R. 4457
Overview: H.R 4457 "Veterans Empowerment Act" is a bill that will "amend title 38, United States Code, to establish the Veterans Accountable Care Organization and to provide veterans access to private health insurance plans, and for other purposes."  The Veterans of Foreign Wars has stated that the bill "would dismantle the VA health care system, require veterans to pay for care they need to recuperate from military injuries and illnesses and reduce VA's role to an insurance program for veterans."  In essence, H.R. 4457 would transform the VA's health care system to an insurance program for veterans.  Under this plan the VA would continue to operate "centers of excellence" as care facilities.  Veterans would choose between continuing to use the centers and enrolling in the "VetsCare" health insurance program for non-service connected care.
What you can do 
Help us voice our concern to congress that this bill will dismantle our VA health care system and require veterans to pay for the care that they have already earned defending our country.  Read the bill and use the URL to the VFW Action Alert to tell your Congressman that they were elected to improve, not dismantle, the health care America provides her veterans and that veterans do not want this bill!
Read more: Tell Congress NO!   H.R 4457 Veterans Empowerment Act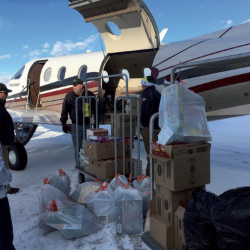 It is the time of the year to start your Christmas gift lists. Stores are decorating for the holidays and music of merriment is playing everywhere.  It is the season of giving and remembering.
The Colorado Aviation Business Association, Metro State University Aviation and Veterans of Foreign Wars seventh (7th) annual Christmas Food/Toy airlift to VFW Posts in Colorado is now one month away.
We are asking for your donation of cash, food and toys to be delivered to Department Headquarters, 1400 Carr St., Lakewood, CO. 80214 by December 1st.  We will be staging these items at Centennial Airport for the Airlift on December 9th.
If your post or auxiliary would like to have planes deliver these items to an airport in your area to help Veterans and their families who might find themselves in need this holiday season, please contact the Chairman to make these arrangements or any question you might have about this project.
The donations also support some eighteen families from the Fort Carson Army Base to make their Holiday season a little more enjoyable with less stress.
Peter Buchanan, PDC
Chairman
This email address is being protected from spambots. You need JavaScript enabled to view it.
303-981-1606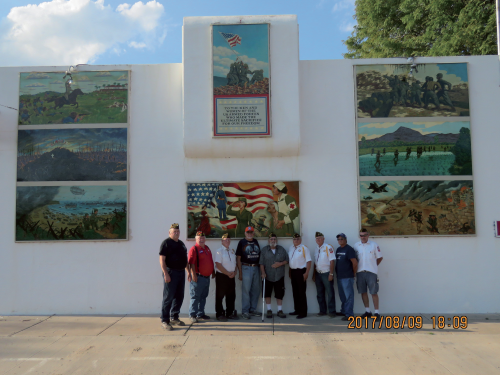 In case you haven't noticed, the VFW Post #2411 has a new face on the building.  The outside panels had been painted several years ago, by artist George Aan De Weil, (now deceased).  The VFW Post moved into the building they now occupy in 1950 and have occupied the building for 67 years.  The building was built in 1948 by J. H. Taliferro and then sold to the VFW Post.  Their charter which hangs at the post is dated October 7, 1950.  The original muster date for VFW Post #2411 is March 3, 1932, according to national records.  They have been in existence for 85 years!
The Post decided they needed to replace the panels and complete a facelift on the building, so they hired Dara Harvey, artist, to repaint the eight panels.  Dara came highly recommended after painting the mural at the Las Animas Elementary School cafeteria.  The eight panels she completed for the VFW Post include: (1) A tribute to women veterans in the Armed Forces; (2) Desert Storm; (3) Omaha Beach in WWII – Normandy, France; (4) Marine's raising the flag at Iwo Jima; (5) Vietnam; (6) World War I; (7) Korean War; and (8) Mexican American War. Dara has always appreciated the service of veterans – her mom was a veteran and her Dad was a World War II pilot, and she was glad to be able to help with this project.