Bruce R. Dolan
National Council of Administration
Veterans of Foreign Wars of the U.S.
Bruce R. Dolan was elected to a four-year term on the VFW's National Council of Administration on July 27, 2016, at the 117th VFW National Convention in Charlotte, N.C., representing the Department of Colorado.
He served in the U.S. Air Force from 1969 to 1973 as a crew chief on F-4 Phantom fighter aircraft in Vietnam. His decorations include the Vietnam Service Medal, Outstanding Unit Award, Marksmanship Medal, National Defense Service Medal, and the Good Conduct Medal.
Bruce joined the VFW in 1998 at Post 7945 in Thornton, Colo., where he maintains his Gold Legacy Life membership. He has served in elected and appointed positions at the Post, District and Department levels, culminating with his election as commander of the VFW Department of Colorado in 2012, and is currently the Department Quartermaster, a position he has held since 2013.
He received his Bachelor's Degree in Business Management and his Associates Degree in Business Administration.
Bruce is a member of the American Legion, and the Boys Town National Alumni Association, where he serves on the Board of Directors and Scholarship Fund.
He and his wife, Arline, reside in Aurora, Colo.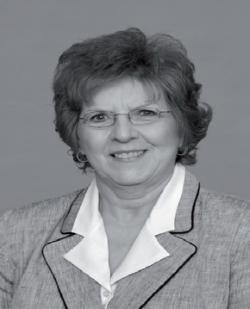 Jeanette Cox
National District Council Member #13
2017-2019
Jeanette Cox, of McPherson, Kansas, represents Colorado and Kansas on the National Council of Administration, which governs the Veterans of Foreign Wars of the United States (VFW) Auxiliary between National Conventions.
Installed at the 104th National Convention in New Orleans, Louisiana, she will serve a two-year term as on of the 28 representatives who make up the Council along with the top seven National Officers, the National Chief of Staff and the four Junior Past National Presidents.
A Life Member of Fred E., Ellis Auxiliary 2715, she has served in many capacities for the organization including Auxiliary, District and Department (state) President.
She joined on the eligibility of her husband, Bobby, who served in the U.S. Army from 1965-1991.
In her spare time, Jeanette enjoys watching her grandchildren play sports, attending family functions and taking care of her great-grandson. She also has a lake house where she enjoys fishing and visiting with neighbors. She also enjoys baking and has a small catering business.
Jeanette and her husband have four children, eight grandchildren and three great-grandchildren.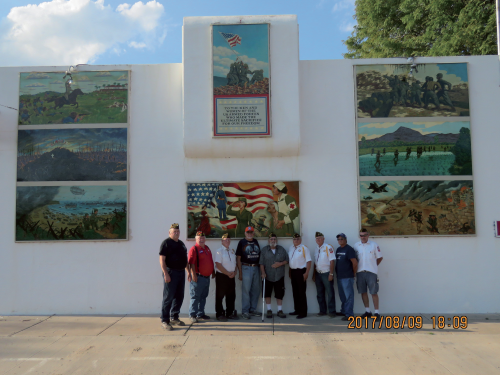 In case you haven't noticed, the VFW Post #2411 has a new face on the building.  The outside panels had been painted several years ago, by artist George Aan De Weil, (now deceased).  The VFW Post moved into the building they now occupy in 1950 and have occupied the building for 67 years.  The building was built in 1948 by J. H. Taliferro and then sold to the VFW Post.  Their charter which hangs at the post is dated October 7, 1950.  The original muster date for VFW Post #2411 is March 3, 1932, according to national records.  They have been in existence for 85 years!
The Post decided they needed to replace the panels and complete a facelift on the building, so they hired Dara Harvey, artist, to repaint the eight panels.  Dara came highly recommended after painting the mural at the Las Animas Elementary School cafeteria.  The eight panels she completed for the VFW Post include: (1) A tribute to women veterans in the Armed Forces; (2) Desert Storm; (3) Omaha Beach in WWII – Normandy, France; (4) Marine's raising the flag at Iwo Jima; (5) Vietnam; (6) World War I; (7) Korean War; and (8) Mexican American War. Dara has always appreciated the service of veterans – her mom was a veteran and her Dad was a World War II pilot, and she was glad to be able to help with this project.

Comrads, Sisters and Brothers we hope you all made it home safe and sound from the Council of Administration. I hope that the training and the meeting was informative.
Let me be the first to wish you and yours a Great Thanksgiving, a Merry and Blessed Christmas and a Happy and Prosperous New Year.
This has been a busy last few months, starting with the National Convention in New Orleans. One of the changes that was made is the Post is no longer required to have a Dues Reserve. We also watched Pioneer Post 2121 and their Auxiliary of Greeley receive an award for their Community Service.  Congratulations Pioneer Post 2121.  Adjutant Ron Latin and I attended a seminar presented by Walgreen's on Mental Heath and how they can help our Posts get engaged in their community.  It was so impressive that we had them speak at our Council of Administration.  If you were not there, talk to your District Commander.
Membership is an ongoing program in the Veterans of Foreign Wars and will for as long as we exist. National has changed the rules to assist the post become an All American Post.  The requirements are a little harder, but you no longer have to be an All State Post to be a All American Post.  So let us work together and help each other to become an All American Post and by doing so, some will also become an All State Post.
There has been a change in the Membership Team, Duane Johnson, for health reasons, resigned as chairman and recommended Lexi Faulkner and she accepted the position of chairman.  I also asked Kevin Reinhold to work with the membership program, that though the years it will help in inquiring new members.  I thank them both for stepping up and taking the positions.
Judge Advocate Kirk Rosa, Claims Consultant Ginny Rosa and myself visited the District 12 area.  We went to meet the members of that area.  We set up at Durango Post 4031 and we thank Commander Steve White for the post and his hospitality.  It was a good trip and I plan to travel to other Districts throughout the year.  Who knows your District may be next.
Remember Comrades, this is your Department, and we are here to serve you, the Members, Posts and Districts.  If you think of a way that we can better assist you, please put it in an e-mail to me, my e-mail is wrong in the roster, it is This email address is being protected from spambots. You need JavaScript enabled to view it. and I assure you, I will read it, research it and reply to it.
God Bless you, God Bless the Veterans of Foreign Wars and of course, God Bless the United States of America.
Ed Aitken
Department Commander

I'm sure there are those reading this article who will decide that I'm all wrong and there is no reason to change.  So be it.  On the other hand, there might be some of you out there who are asking a really good question: Can we do a better job?  If so, let's get on with making the necessary changes.  I would like to hope that there is some of the latter present in leadership roles.
I've heard that leadership is a skill that is learnt: sit in a few classes + some experience = be a leader!  Yet some firmly believe that good leaders are made and no amount of training teaches what nature gave him or her.  Then what is the true test of whether you are a leader?  The down and dirty test that tells you a lot is:
Do you have support on what you want to do?
Are you getting things completed on time?
Do the things that you and the Post do move the VFW in a desire or planned direction?
Can you honestly answer "yes" to all three?  That simply gauge means if you are, then you are undoubtedly performing on some level of leadership.  Were there any "No" answers?  A "No" answer can possibly mean you are fulfilling a position, but you can use some help in providing leadership to the organization.  Think about acquiring these simply, yet significant terms in your leadership to help you focus.
One of the words that I have found a lot of in the leadership literature lately is accountability.  Accountability wouldn't normally seem to be much of a description for leadership, but it does lean in the direction of motivation to make sure things don't go wrong under your leadership.  Culture is yet another word that often comes up in leadership literature.  Our organizational values, norms, and convictions which forms our organizational culture, that is a source of our pride.  I would argue that our culture can be a godsend, but it is also a limiting factor in how we move about in our community served.
The point is, keep your head in the game and focus on your responsibilities in the leadership position you were elected to by your peers.  We have the capacity to help our worthy comrades, Veterans, and their families every day.  If you keep focused on your accountability and our culture, the organizational pride stands evident as we serve the community and Veterans, then the positive effect is we move our organizational goals forward.
Steve Kjonaas
Department Sr. Vice Commander

Greetings comrades,
Something wonderful is happening in Colorado, veterans are stepping up to take care of veterans.  This is nothing new, it has been happening for over one hundred years but it is exciting to watch.
Down in the San Luis valley, VFW Post 4849 has been assisting the town of Conejas develop a Veteran's Boulevard.  They are lining a stretch of one of the town's streets with trees, each honoring a local veteran.  Families purchase the trees and members of the post donate the time and equipment needed to plant them.
Up in Colorado Springs, posts in district 5 caught wind that the widow of a Vietnam veteran was concerned that no one would attend his funeral because he had no friends.  Taking action they quickly got the word out using email, social media and a media release. An estimated 500 people turned out for the funeral and it was televised on a local channel.
With the holidays coming up we will have more opportunities to serve not only those that served but our communities.  Opportunities like sponsoring Christmas parties for special needs children or a senior center luncheon and feeding Veteran's families through the Colorado Aviation Business Association (CABA) airlift.
Let's keep up the good work and don't forget to brag about it a little bit.  Post your activities in social media and use the hash tags #vfwpostpride and #vfwco.  There are future members out there who want to be a part of an active veteran's organization and they are watching what you do through social media.  Remember that we are the Veterans of Foreign Wars where No One Does More for Veterans and nobody does it better than the Department of Colorado.
David Stone
Department Jr Vice Commander
Comrades.
I this finds everyone well.  I also hope all who can have gotten you flu shot.
I am sure everyone has heard by now, one of the By-Law changes at the National was to do away with the dues reserve at the Post level.  This is a good thing.  Now the quarterly audits won't be coming back to the Posts that forget how and what it was.
Speaking of quarterly audits, we are seeing a new trend.  Signatures.  The Quartermasters Manual on the National web site states the Trustees and Commander must sign the audit report.  The Quartermasters name may be typed in, but the Trustees and Commander must sign.  We are getting more and more audits without the Commanders signature.  Please take the time to read the material explaining how the audits are done, or call Headquarters and ask for a copy of how to fill out an audit.
As of today, we have 3 Posts that have not bonded.  Englewood (322), Commerce City (4444), and Mancos (5231) have not been bonded.  The By-Laws are very clear on this. Each officer that is accountable for, must have a surety bond equal to the amount of liquid assets.  This is normally the Quartermaster.  Surety bonds are like an insurance policy paid for by the Post saying the Quartermaster will not steal from the Post.  This is why we try and make sure the audits are done correctly.  The bonding company requires the audits be done correctly in case a loss occurs. Believe me, it has happened in the past.
I would personally like to thank the following for their donation to the hurricane relief fund.  Posts 41, 2121, 3471, 4331, 5061, and 7305. Auxiliaries 2601, 9644, and District 10.  We sent a check to National for $9675.  Thank you to all who donated.
I hope everyone has great holidays.
Bruce R. Dolan
Department Quartermaster

I have been on the move for the last couple of months.  I made my visitation to Cheyenne VA in July just before leaving for the National Convention.  It was a fun filled day interacting with the residents for their Picnic and BBQ.
I started the month of September with a visitation to the Spanish Peaks Veterans Community living center in Walsenburg on the 8th with Dept. President Caroline Gelatt.  The tour through the facility was very informative.  I was told that if you are ever down that way to stop in and see them.  They have a cafeteria where you can get breakfast and lunch.  Then on the 9th we went to the Home Lake Veterans Community living center.  We got a tour there also.  There is so much history at that facility.  They were having their annual activities day and picnic.  Walking throughout the different stations with a couple of the residents made for a great day.  On the 16th I was at the All Activities day and events at the Pueblo Community living center.  On the 23rd I was at the Veterans Community Living Center at Fitzsimons for their Fall Festival, where I had another facility tour.  I have to say that all the Veterans Community living centers I have visited so far are outstanding places.  The staff of the Veterans Community living centers that I have been to put the veterans first.  Most of them have a County Service Officer helping the Veterans to get compensation and other support from the VA.  It is heartwarming to see just what support all of the facilities get from all of the Veterans organizations within the State of Colorado.
I had not been to most of the Community living centers within the State until this year as your State Surgeon.  But after making my visitations around Colorado, it will be my privilege to continue to visit them.  It has been a lot of fun sitting around and talking to the old timers and listening to their stories.  There is nothing like getting the stories first hand.
Yours in Comradeship
Robert M. Kidd Sr.
Department Surgeon
Greetings Colorado;
YOU CONTINUE TO MAKE A DIFFERENCE!!  Comrades, Auxiliary Members, Family, and Friends; the fall season is upon us.  Did you ever stop to notice the changing of the colors across the Colorado landscape??  What peace and seriality it brings.
As we prepare for the Council of Administration in October, let us be thankful for all that each has accomplished.  Let us not forget the victims and displaced personnel in Texas, Florida, and Puerto Rico who were affected by the devastating hurricanes.  Hundreds of lives were lost, and countless more were left homeless, and though cities fall, they are rebuilt!! I am thankful for a grateful nation of heroes who serve their communities in a time when perils prevail.  To the "first responders" I offer my sincere gratitude, and thank you for your continued service to your community in such perilous times.  For the aide that continues to be rendered through our military services, I salute you!!  To all who volunteered their time, services, and giving.  Thank You.
For the remainder of this article I would like to Honor those Who Serve in Our Armed Forces!!
Veterans Day is Saturday, November 11th.  Formerly known as Armistice Day, this holiday was originally created to commemorate the end of World War I, which officially took place on November 11, 1918.  In legislation that was passed in 1938, November 11th was "dedicated to the cause of world peace and to be hereafter celebrated and known as 'Armistice Day.'"  This new legal holiday honored World War I veterans.
Many people confuse this holiday with Memorial Day.  However, Memorial Day honors those members of the military who paid the ultimate sacrifice and gave their life in the service of our nation.  This includes those killed in action or who died as a result of wounds or injuries received in battle.

Greetings to all our members:
It is an honor and a privilege to have been elected to serve as your Department President.  I would like to thank all of you for your confidence and support.  I will do my absolute best to be worthy of this great honor.  For as long as I have been a member of the VFW Auxiliary, the membership has been a constant source of inspiration to me.  Your commitment to service and to furthering our great cause has kept me coming back time and again.  No organization has a greater patriotic spirit than that of the VFW and it's Auxiliary.  I'm looking forward to a very exciting year for our Auxiliary and if the places I have visited so far are any indication of what is to come I am sure it will be a journey of a lifetime.  I plan to take you along for the ride, through Facebook, so I can share my experiences with each of you.  I am sure I will witness some unique things that are happening within our auxiliaries and there might just be something out there that can give a boost to your own programs.
My travels so far have taken me to five VA Community Living Centers and Nursing Homes including the Cheyenne VA, Spanish Peaks in Walsenburg, Homelake in Monte Vista, Bruce McCandless in Florence and the Pueblo VA Nursing Home.  Each exceptional and where I had a chance to visit with many of their residents and staff.  I attend National Convention in New Orleans with my husband, Dave and for those of you who didn't know, this was his first National Convention and I was so happy he could attend and share this journey with me.  I was honored to have our Sr. Vice President Shelley Schlieman and Jr. Vice President Sabrina Feagaiga present me as your Department President.  I can't even begin to explain the feeling I had walking down that red carpet, with our colors bearer flags on each side of me, a memory I will cherish forever.  The first weekend in August, Commander Ed Aitken and I held our joint homecoming in Evans Colorado at Adamson Warmuth Post 6624.  We were pleasantly surprised to see so many Auxiliary and Post members from across the state in attendance.  We truly appreciate everyone who made this event possible.
Colorado Aviation Business Association and Veterans of Foreign Wars Annual Holiday Veteran Food and Toy Airlift.
What is the airlift? Donations from the Re-Distribution Center, Marine Corps League, 20 VFW Posts and Auxiliaries and huge discounts from King Soopers. This is a VFW/CABA with the MSU pilot's volunteer project to help veterans. We all intend to make the holiday season a little less stressful for our fellow veterans by giving them donated food and toys and a little cheer during the holiday season. We flew planes into Burlington, Pueblo, Las Animas, Alamosa, Walsenburg, and Montrose airports. Over the past 6 years this program has delivered nearly 18,000 pounds of donated material to Colorado's veterans and their families. This year the project had generous donations from VFW Posts and Auxiliaries and kind hearted friends with a total $4,407.38. This money was used to purchase more food and toys to supplement all the donated food and toys. This material was given to 353 Adults and 65 kids as well as 15 families with children from Fort Carson.
How can I help with this program? You can help with donated money from your Post relief fund. Your Check is made out to Department of Colorado VFW with "CABA" in the memo section. You can gather food and toys at your Post or local business places. Gather these donated items and deliver them to Department Headquarters by December 1st.
My Post would like to participate, what do we do? If you have veterans in your local area that could use food and toys at Christmas is the only requirement. You would need to identify these veterans or families that are needing some extra help and make arrangements to either have them come to your post on a special day or preferably show up at your airport on the airlift day, usually the second Sunday in December depending on the weather. Contact the Department CABA Chairperson to make the arrangements for your Post to be involved.
2017 will be the 7th Annual Airlift and it is this year's Commander's Special Project. More information will be coming at the Council of Administration meetings and your District meetings going forward throughout the year. Questions should be directed to PDC Peter Buchanan, This email address is being protected from spambots. You need JavaScript enabled to view it., 303-981-1606.
If you missed your local TV station coverage this year, here is a link where you can view our Las Animas airlift. This report was put together by MSU Denver videograper John Arnold who did a wonder job covering our operation.
WHO - all members of a Colorado VFW Post or VFW Auxiliary diagnosed with Cancer
WHAT - grant up to $500.00
WHERE - VFW Department of Colorado, 1400 Carr Street., Lakewood CO 80214 303-421-1630
WHEN - upon submission of the request form (on Department Website) and approval
WHY - to assist our members with additional expenses. Cancer is not cheap.
These are the basics and all members should know this grant is available. Please spread the word. It is there to assist when Cancer comes calling.
To be able to assist, it is imperative that fundraising support happens. Contributions from all VFW Posts and VFW Auxiliaries are needed. Please plan a fundraiser, send the proceeds to VFW Department of Colorado marked for the Blood/Cancer Fund so assistance for our Colorado VFW Veterans and VFW Auxiliary family members is there when needed.
Thanks for helping!
Dick Wellensiek, VFW Chairman
Ruth Gulden, VFW Auxiliary
I am very pleased to continue as chairman for another year. As everyone expects I will continue to apply my gregarious personality and fun loving nature to inspire our auxiliaries to continue to put more "fun" in "fun"draising. I will track all the National Home donations reported to the Department of Colorado. I will recognize at the 2018 Department of Colorado VFW Convention the auxiliary with the greatest amount contributed (less our minimum commitment) to the VFW National Home for Children. Please be accurate with the reporting and capture all your efforts toward this worthy cause.
Our VFW Auxiliary Department of Colorado Senior Vice President Shelley Schlieman invited me as her guest to tour the VFW National Home last May. It was a tremendous blessing to visit this small-town community in Eaton Rapids, Michigan. Several families gave testimonials on how this stable edifying environment helped them to recover from their crisis. The VFW National Home for Children provided housing, daycare, education, recreation & basic needs to give them a path to recovery. They were genuinely appreciative of this life changing gift. To see the inner workings, to touch the bricks & to feel the compassion of the VFW National Home for Children is an experience I will draw upon for many years.
Upon my return I spoke to several people outside of our VFW Auxiliary community, one of which worked at the VA hospital and clinics for many years. No one had ever heard of the VFW National Home. Consequently I will spend time championing this program to my circle of community contacts.
More Information can be obtained at: vfwnationalhome.org
Any questions, ideas or comments for the Department of Colorado Auxiliary VFW National Home for Children Chairmen can be e-mailed to This email address is being protected from spambots. You need JavaScript enabled to view it.
Raymond Moelder
Department Auxiliary VFW National Home for Children Chairman
The 2017 Pueblo VA Community Living Center All Activities Day will be on September 16, 2017
Location:
VA Eastern Colorado Health Care System
2600 Oakshire Lane
Pueblo, CO 81001
Schedule:
7:00 am - 7:30 am Volunteer Registration
7:30 am - 10:00 am Volunteers Assemble Carnival Booths
10:00 am Opening Ceremony/Color Guard Flag Raising/Volunteers Report to Game Booths
10:15 am - 1:30 pm Carnival Booths Open for Business
11:00 am - 1:00 pm Entertainment (various times during event)
11:00 am Veterans Go Through the Lunch Line
12:00 noon Volunteers Go Through the Lunch Line
1:30 pm Gift Presentations by Organizations
2:00 pm Volunteers Disassemble Carnival Booths
NOTICE: we would appreciate all left over items from your booth be given to Recreation or Voluntary Service Staff after the carnival. We use these extra prizes throughout the year for impromptu parties and bingos. Any excess items not used by the CLC Veterans such as clothing & toiletry items are used for homeless Veterans in the annual stand-down event.
VFW National Foundation Regular Grant
No one understands military and veteran support quite like we do. To help VFW Departments, Posts and Auxiliaries, as well as qualifying nonprofits provide the vital support America's heroes and their families deserve, the VFW National Foundation has established the VFW Foundation Regular Grant.
Grants ranging from $1,000 - $15,000, will be awarded for activities that directly benefit veterans, active duty military personnel and their families. Requests displaying innovation in service delivery, unique program design that addresses an under-served need and the likelihood of sustainability after the grant period ends will be given special consideration.
VFW National Foundation Community Service Grant
VFW community service projects are extremely important and shouldn't be hindered by budgetary limitations. In an effort to help VFW Posts and Auxiliaries succeed in serving their communities, the VFW Foundation - the official 501(c)(3) charity of the VFW - established the VFW Foundation Post/VFW Auxiliary Community Support Grant to help fund local community service projects.
Available to any VFW Post or Auxiliary, a VFW Foundation Post/VFW Auxiliary Community Support Grant will provide up to $1,000 for performing important and needed qualifying outreach projects in your community! With an easy and streamlined application process, Posts and Auxiliaries can expect to receive a decision within thirty (30) days of the application submission.
For more information see https://www.vfw.org/community/community-initiatives/post-grants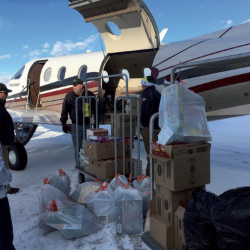 It is the time of the year to start your Christmas gift lists. Stores are decorating for the holidays and music of merriment is playing everywhere.  It is the season of giving and remembering.
The Colorado Aviation Business Association, Metro State University Aviation and Veterans of Foreign Wars seventh (7th) annual Christmas Food/Toy airlift to VFW Posts in Colorado is now one month away.
We are asking for your donation of cash, food and toys to be delivered to Department Headquarters, 1400 Carr St., Lakewood, CO. 80214 by December 1st.  We will be staging these items at Centennial Airport for the Airlift on December 9th.
If your post or auxiliary would like to have planes deliver these items to an airport in your area to help Veterans and their families who might find themselves in need this holiday season, please contact the Chairman to make these arrangements or any question you might have about this project.
The donations also support some eighteen families from the Fort Carson Army Base to make their Holiday season a little more enjoyable with less stress.
Peter Buchanan, PDC
Chairman
This email address is being protected from spambots. You need JavaScript enabled to view it.
303-981-1606
Thank you to the VFW Posts, VFW Auxiliaries, family members and friends for your donations.   Every donation received makes a difference in the lives of Colorado's Veterans and their families.
We are now accepting and processing applications for Eligible Veterans and their Families in the State of Colorado.  For FY 2017-2018 we are hoping the funding we have will last into the Spring of 2018 (February/March). Assistance to date: August 1, 2017 through October 15, 2017, we have expended $10,557.00 in assistance to 34 Veterans and their Families with Rent, Utilities, and Vehicle Repairs etc.….  We are on track to have funds available for assistance, however as most of you know, winter in Colorado is unpredictable, we know we will see in increase in grant requests once the snow and freezing temperature moves in.
Any eligible Veteran in need of emergency assistance across the State of Colorado can apply for a one time Grant of $500.  We receive referrals from VA Social workers, Veterans Service Officers, and other non-profit organizations.  In the event the need is greater than the assistance that can be provided, the veteran will be referred to outside resources for: additional assistance to prevent eviction/ or loss of shelter, help with employment/interviewing/resume writing.  Veterans will also be referred to our Veterans Service Officers for help with VA Claims and Benefits or, to their Local Human Services Agencies for any additional state assistance as they may qualify for.
The Grant Application is available on the Department Website to download; follow the requirements and submit the application to our office.
We are asking you our members and your family and friends to donate to the Colorado VFW Foundation.  Make your checks payable to Colorado VFW Foundation and mail to 1400 Carr Street, Lakewood, CO 80214.
Colorado VFW Foundation Board of Directors